Tuya
Human Mummy
Biographical Information
Name(s)
Tuya (also known as Thuya or Tjuyu)
Age
Sex
f
Status
elite
Height
Source
Culture
Egyptian
Date(s)
1375 BC
Site
Valley of the Kings
Current Location
Location
Cairo Museaum
Catalog #
Tuya (also known as Thuya or Tjuyu) was buried along with her husband in the Valley of the Kings. Their tomb was discovered in 1905, the tomb is known as KV46. She was the mother of a future queen; Tiye. When workers discovered the tomb in 1905 it was apparent that it had been broken into several times after it was sealed, but, what they found was a plethora of immaculate funeral equipment unlike any they had seen before. Within the tomb, they discovered various coffins, golden masks, a golden chariot, jewelry boxes with ivory and gold inscriptions, various intricately engraved chairs and so much more.
She was known by many names and titles, some of which include; Singer of the Hathor, and Chief of the Entertainers, Superintendent of the Harem of the God Min of Akhmin. She was married to Yuya a courtier. Together they were believed to have three children.
Yuya and Tuya also had a son, Anen who was a Chancellor of Lower Egypt and is referred to as the Divine Father. There is evidence that suggests the she died in her 50s in 1375BC.
Mummification
It is believed that Tuya died at a much later time than her husband.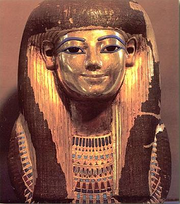 Along with her husband, she was found in a excellent state of preservation despite the apparent robbery of the tomb. Material was found under her eyelids to keep them from falling in. Her arms were positioned in such a way that was rare at the time; outstretched, palms up on her thighs. She was thought to be quite old when she died, she was almost bald.
External Links
https://seanmunger.com/2014/07/27/42-historical-people-no-3-thuya-egyptian-noblewoman/
http://www.touregypt.net/featurestories/yuyat.htm
Community content is available under
CC-BY-SA
unless otherwise noted.