The Lord of Sipán
Human Mummy
Artist Recontruction
Biographical Information
Name(s)
The Lord of Sipán
Age
35-45
Sex
Male
Status
Ruler of Lambayeque Valley
Height
approximately 1.63 m
Source
Culture
Moche
Date(s)
late 3 rd century AD
Site
Huaca Rajada
Current Location
Location
North Coast of Peru
Catalog #
none
In 1987, a Moche tombs was unearthed at the Huaca Rajada archaeological site, near Sipán on the North coast of Peru. The tomb belonged to a man dubbed The Lord of Sipán, a Mochican warrior priest who was buried among his treasures.
Mummification
He was entombed in a a 5 metre by 5 metre chamber in a wooden sarcophagus.
Studies
The Lord of Sipán was aged 35-45 years old at the time of his death, and is known to have ruled the Lambayeque Valley about the late 3rd century AD.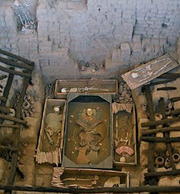 Grave goods included gold, silver, and copper jewellery and ornaments, including an enormous crescent headdress with a plume of feathers, a face mask, several pectorals composed of hundreds of shell beads, necklaces, nose rings, ear rings, a gold and silver sceptre, banners of gilded metal sewn onto cotton cloth, a necklace made with beads of gold and silver in the shape of peanuts,tropical sea shells, silver and gold rattles, knives, golden death-masks, gold bells showing a deity severing human heads, three other headdresses, and hundreds of beads.
Additional
Other bodies in the tomb included three young women dressed in ceremonial clothes placed at the head and foot of his coffin, two males with amputated feet on the long sides, and a child of about nine or ten years of age, placed at the head of his coffin. The remains of a third male was later found on the roof of the burial chamber sitting in a niche overlooking the chamber, a dog, and two llamas.
External Links
https://en.wikipedia.org/wiki/Lord_of_Sipán http://www.ancient-origins.net/ancient-places-americas/tomb-lord-sipan-mochican-warrior-priest-001986
References
A. (n.d.). The Tomb of the Lord of Sipan, Mochican Warrior Priest. Retrieved March 11, 2017, from http://www.ancient-origins.net/ancient-places-americas/tomb-lord-sipan-mochican-warrior-priest-001986
Community content is available under
CC-BY-SA
unless otherwise noted.