Thamanya Sayadaw U Vinaya, a prominent and influential Burmese Buddhist monk of Pa-O descent, was best known for his doctrinal emphasis on metta.
Thamanya Sayadaw
Human Mummy
Biographical Information
Name(s)
Thamanya Sayadaw
Age
93 at death
Sex
Male
Status
Burnt Corpse
Height
Unknown
Source
Culture
Burmese Buddhist
Date(s)
1910 - 2003 AD
Site
Shwedagon Padoga
Current Location
Location
Kawkada village
Catalog #
Unknown
Thamanya was first ordained at the age of 13 and then was later further ordained at the age of 20. He established a meditation retreat and a monastery on Thanamanya Hill, where he taught meditation. The area around his monastery. By the mid-1980s, followers established a thriving community around Thamanya Hill, comprising 5,000 households in the late 1990s.
Mummification
According to (Buddhist Mummies),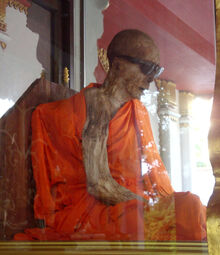 "Buddhist mummies, also called flesh body bodhisattvas, full body sariras, or living buddhas (Sokushinbutsu) refer to the bodies of Buddhist monks and nuns that remain incorrupt, without any traces of deliberate mummification. These are venerated by some Buddhists who believe they successfully were able to mortify their flesh to death. The practice to purposely make undecomposed bodies is seen as controversial and contradictory to the Buddhist belief in impermanence."
Thamanya Sayadaw is under the Theravada branch of buddhism on the list of Buddhist Mummies on this page. 
Theft and Burning of Thamanya's Body
On April 2nd 2008, Thamanya's corpse was stolen from his tomb by armed men. Four days later, monks at the Thamanya Monastery received an anonymous phone call letting them know that Thanmanya's body was burned and the ashes left at Kaw Ka Dah village. The theft and burning of his body is believed to be political, as Thamanya publicly critized many parties, including the military government.
References
Buddhist mummies. (2017, October 15). Retrieved November 19, 2017, from https://en.wikipedia.org/wiki/Buddhist_mummies May, A. G. (2008, June).
Will Thamanya Sayadaw's Body Ever Rest in Peace? Retrieved November 19, 2017, from http://www2.irrawaddy.com/article.php?art_id=12596
Thamanya Sayadaw. (2017, October 13). Retrieved November 19, 2017, from https://en.wikipedia.org/wiki/Thamanya_Sayadaw
Community content is available under
CC-BY-SA
unless otherwise noted.