The two Egyptian mummies in the collection of the Toledo Museum of Art were brought to Toledo in 1906 by museum founders Florence and Edward Drummond Libbey.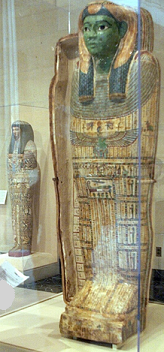 During a visit to Egypt in 1906, the Libbeys purchased the mummies from an antiquities dealer in Cairo.
The mummies went on display in the museum and remained until 1978, at which time one was taken off display for conservation reasons, the other remained on public display until 1997. Since then, the mummies have been back in public view only twice.
The two are a partially unwrapped mummy believed to be a young priest who lived around 800 BC and the fully wrapped mummy of a supposed laborer estimated to have lived about AD 100.
External Links
https://www.toledoblade.com/A-E/2018/01/28/TMA-mummies-exhibit-opens-next-weekend.html
Community content is available under
CC-BY-SA
unless otherwise noted.