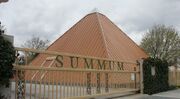 Name: Claude Nowell, otherwise known as Summum Bonum Amon Ra
sex = Male
dates = November 2, 1944 – January 29, 2008
==Biography==
At the age of four, Nowell's parents got a divorce, and him and his mother had moved to California. He lived there until 1959, moved to Tustin where he later graduated from high school in 1962. He later joined Orange Coast College and he graduated in construction technology. In 1975, he had founded a place called the Summum which followed an experience with "highly intelligent beings". He created the summum to share information of his encounter with other people within the community. In 1980, he changed his name to Summum Bonum Amon Ra in order to represent his "spiritual path". Nowell passed away in January of 2008 and his body was encased within a bronze casket covered in gold - which stands within the groups pyramid.
==Mummification==
After the establishment of Summum, Nowell was able to introduce the idea of mummification all over again but, with a modernized twist. He was referred to as the "father of modern mummification".
The body is submerged within fluids for 77 days. This is a very complex process - requires 1,000 hours of labor over the course of 6 months.
Those who wish to be mummified write a "spiritual will" which outlines where they hope that their soul will go in the afterlife/next life - and this will is read to their body everyday, at least once per day, during the 77 days of submersion
Process of mummification:
The body goes to the funeral home where they prepare the body and send it the Summum
At the Summum, the rites of Transference begin and the body starts to be cleansed
Incisions are made to remove the organs which are then cleansed and places back into the body
The body is put into a tub of preservation fluid which is where it remains for a certain period of time to achieve "maximum penetration" while the rites continue
After the body is removed from the liquid, it is re cleansed and covered in lotion. Following this the body gets wrapped in gauze where they also apply polyurethane overtop to form a permanent seal
The body is put inside a bronze or a stainless steel mummiform which is filled with amber resin to protect it
The mummiform is then welded shut and enshrined in the sanctuary
Nowell was the first human to actually undergo the mummification process.
==External Links==
- http://www.summum.us/insidethepyramid/
==References==
- (in German). Stern.de. 2003-11-06. Retrieved 2007-11-10.
- Mrazek, Milos. (in Czech). Dingir. pp. 79–81. Retrieved 2013-11-06.
- Radio National Breakfast with Peter George. 2000-07-05. 5 minutes in. Australian Broadcasting Corporation. Radio National.
Community content is available under
CC-BY-SA
unless otherwise noted.