Natural Frozen Siberian Mummy
Biographical Information
Name(s)
Natural Frozen Siberian Mummy
Age
estimated 19.6 (at death)
Sex
Female
Status
Height
N/A
Source
Culture
Yakut
Date(s)
buried in 1728, discovered in 2006
Site
Kyys Ounouoga (Tchouraptcha, in the central part of Sakha

Republic)

Current Location
Location
N/A
Catalog #
N/A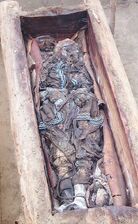 Biography
Edit
The mummy is thought to be a woman shaman. They were on average 18 years old, virgins, and considered as superior to any male shaman. She was found with three layers of clothes and two leather cords surrounded her. These cords suggested death by suicide or of a shaman.
Mummification
Edit
She was naturally mummified by frost, and buried in a high quality coffin with burial furniture and clothes. These things were all complimentary with the well-preserved state of the body.
The study referenced below aimed on forensic and anthropological aspects. It compares and discusses the findings of the MSCT and autopsy diagnoses.
Pathology
Edit
Multislice computed tomography (MSCT) revealed no obvious traumatic lesions. Some pathological findings were interpreted as possibly post-infectious. Analysis of the surface skin was very difficult due to the metallic artefacts (jewels and pearls) embroidered on the clothes. It was not possible to exclude any skin rupture, stab wound or cervical skin lesions. The pathological findings included an encysted left pleural mass with fat densities suggesting empyema, a fatty calcified mass anterior to the right iliac muscle, ankylosis of the left sacroiliac joint with complete joint fusion without sequestra. The first hypothesis made was concerning the cause of death and was potentially a death secondary to a disseminated infectious disease.
References
Edit
Dedouit, F., Géraut, A., Baranov, V., Ludes, B., Rougé, D., Telmon, N., & Crubézy, E. (2010). Virtual and macroscopical studies of mummies-differences or complementarity? Report of a natural frozen Siberian mummy. Forensic science international, 200(1-3), 13–7. doi:http//dx..org/10.1016/j.forsciint.2010.03.028