San Domenico Maggiore Mummies
Human Mummy
Biographical Information
Name(s)
San Domenico Maggiore Mummies
Age
varied
Sex
both
Status
Unknown
Height
Source
Culture
Italian
Date(s)
15th and 16th centuries
Site
San Domenico Maggiore Church
Current Location
Location
Catalog #
Thirty-one Italian Renaissance mummies discovered in the Basilica of San Domenico Maggiore in Naples. Among them were included the bodies of 10 Aragonese princes and other Neapolitan nobles, including Ferdinand I d'Aragon and Maria d'Aragon, who all died in the 15th and 16th centuries. Thirty-eight sarcophagi explored, 8 were found to be empty, while one contained two bodies. Fifteen individuals, had been submitted to embalming, while 12, had not been treated. Smaller coffins on the lower row were found to be anonymous, while the larger coffins on the upper row were identified by the coats-of-arms and the names of the person inside. They were examined from 1984 to 1987 by a team of the Institute of Pathology of Pisa University.
Mummification
Natural mummification of the bodies can probably be attributed to the climate of Naples dand by the particular microclimatic conditions of San Domenico Maggiore crypt.
Studies
A paleopathological study resulted in diagnoses of infectious such as smallpox, hepatitis, condyloma, syphilis and pneumonia, and other ills such as obesity, atherosclerosis, gallstones colon cancer and skin cancer.
Pathology
The mummy of Ferdinando Orsini, Duke of Gravina in Apulia, who died in 1549, was found to have erosion of the upper orbital margin, and complete destruction of the right nasal and retro-orbital bones. An epithelioma (abnormal growth or tumour) was diagnosed.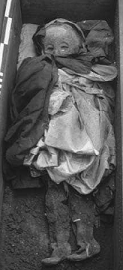 The mummy of an unnamed 2-year-old boy, who died about 1569 and was thought to have fallen to smallpox was retested in 2016, when the genome was sequenced, molecular analysis found no trace of the smallpox virus, but did find evidence of the hepatitis B virus.
An unnamed man of about 27 who died in the second half of the 16th century due to a fatal stab-wound, between the eighth and the ninth left ribs.
External Links
https://www.paleopatologia.it/articoli/aticolo.php?recordID=63
https://www.researchgate.net/publication/5673816_The_Aragonese_mummies_of_the_Basilica_of_Saint_Domenico_Maggiore_in_Naples
Community content is available under
CC-BY-SA
unless otherwise noted.