Nespamedu
Human Mummy
Biographical Information
Name(s)
Nespamedu
Age
Sex
m
Status
high
Height
Source
Culture
Egyptian
Date(s)
300 B.C. and 200 B.C.
Site
Saqqara
Current Location
Location
National Archaeological Museum Madrid, Spain
Catalog #
Nespamedu was initially thought to be a woman's when the museum first received them from a donor in 1925.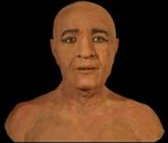 Inscriptions on the mummy's golden cartonnage revealed him to be a priest named Nespamedu from Saqqara, a priest and doctor thought to minister to the pharaoh Ptolemy II and possibly his successor Ptolemy III.
Studies
2016 studies indicated he died at about 55 years of age.
Additional
Researchers hypothesized that evidence suggests that Nespamedu may have been the pharaoh's eye doctor.
External Links
https://www.ancient-origins.net/news-history-archaeology/madrid-mummy-0011321
https://arqueotrip.com/nespamedu-sacerdote-imhotep-medico-del-faraon-la-historia-secreta-las-momias/
Community content is available under
CC-BY-SA
unless otherwise noted.