Lucknow Mummy
Human Mummy
Biographical Information
Name(s)
Lucknow Mummy
Age
13
Sex
Female
Status
Unknown
Height
Unknown
Source
Culture
Egyptian
Date(s)
3,000 years old
Site
Unknown
Current Location
Location
State Museum Lucknow
Catalog #
Unknown
A mummy of a 13-year old girl currently is housed in the Lucknow Museum after being purchased from J. J. E. Potter from the UK in 1952. The mummy is approximately 3,000 years old, one toe of this mummy is unwrapped.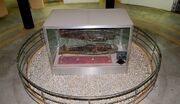 Mummification
The girl's name, family history and sect are present on the sarcophagus, however, they have heretofore proved undecipherable. 
Additional
Lucknow Museum is one of the six museums in India including Hyderabad, Mumbai, Jaipur, Baroda and Kolkata, to own a mummy, but it always lacked the expertise to take care of it.
References
3000 Year old Egyptian Mummy at Lucknow Museum [Digital image]. (2015, September 14). Retrieved November 15, 2017, from https://indiantouristblog.wordpress.com/2015/09/14/lucknow-museum-unique-and-mesmerizing/
Shukla, N. (2016, June 19). Mummy to return at Lucknow Museum soon - Times of India. Retrieved November 15, 2017, from https://timesofindia.indiatimes.com/city/lucknow/Mummy-to-return-at-Lucknow-Museum-soon/articleshow/52814479.cms
Six museums in India that house Egyptian mummies. (2016, July 7). Retrieved November 15, 2017, from http://mywanderlust.com/six-museums-in-india-that-house-egyptian-mummies/
Community content is available under
CC-BY-SA
unless otherwise noted.