Lady of Jewels
Human Mummy
Biographical Information
Name(s)
Lady of the Jewels, Jeweled Mummy
Age
4,000 yo
Sex
F
Status
elite
Height
Source
Culture
Egyptian
Date(s)
1479-1425 BC
Site
Current Location
Location
Catalog #
Discovery in what is known as the temple of Pharaoh Thutmosis III on the west bank of the Nile in Luxor.
Studies
Believed to have been a female aristocrat in her 30s.
After a ceiling collapse, a large boulder had fallen before anyone could loot the tomb, it crushed and buried the untouched coffin of the woman with all its contents.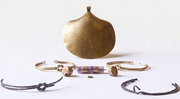 The jewelry found included a gold-plated necklace, a golden pendant, two silver ankle bracelets, and two golden wrist bracelets.
Pathology
The mummy was almost entirely destroyed by the fallen stone of a collapsed ceiling.
Additional
External Links
Johnson, J. (2014, November 24). Jeweled Mummy Found Under Collapsed Roof. Newser. Retrieved from http://www.newser.com/story/199075/jeweled-mummy-found-under-collapsed-roof.html
https://www.seeker.com/ancient-egyptian-mummy-wearing-jewels-found-1769299678.html
Community content is available under
CC-BY-SA
unless otherwise noted.