Santa Inocencia
Biographical Information
Name(s)
Santa Inocencia
Age
300
Sex
Female
Status
dead
Height
Unknown
Source
Culture
Mexican
Date(s)
Unknown
Site
Unknown
Current Location
Location
Guadalajara
Catalog #
Unknown
Biography:
A 300 year old child mummy called "Santa Inocencia" (Saint Innocent). There are two different versions to the her story, but both focus on the elements  that Saint Innocent was a young girl who was said to have been killed by her father due to her desire and decision to convert to Christianity. "Kept in the Cathedral of Guadalajara in Mexico, her corpse has been preserved in wax". Furthermore, it is said that her body was taken to the Cathedral as a sign of her love for the Eucharist.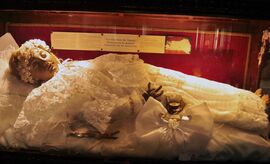 References: http://www.ancient-origins.net/news-mysterious-phenomena/300-year-old-child-mummy-appears-open-her-eyes-creepy-video-shot-mexican-021001?nopaging=1
http://www.dailymail.co.uk/news/article-3805486/Back-dead-Catholic-child-saint-stabbed-death-father-300-years-ago-blinks-tourist-s-terrifying-footage.html
Community content is available under
CC-BY-SA
unless otherwise noted.