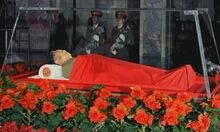 Birth: 15 April 1912
Death: 8 July 1994
Living: Kim Il-sung was the supreme leader of the Democratic People's Republic of Korea (DPRK). This is also known as North Korea, from 1994 to his death in 2011. During his reign he took on many important jobs such as General Secretary of Workers' Party of Korea,the Supreme Commander of the Korean People's Army (KPA), Chairman of the National Defence Commission (NDC) of North Korea and to conclude the fourth-largest standing army in the world. Kim Jong-il's leadership is thought to have been even more dictatorial than when his father reigned.
www.ibtimes.com
Community content is available under
CC-BY-SA
unless otherwise noted.