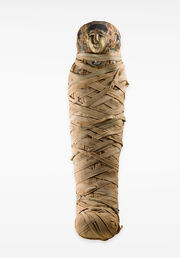 Egyptian mummy of young boy dated to the early second century AD, in the Nicholson Museum (inventory no. NMR.26)  The body is wrapped in a shroud secured with diagonal pattern linen bandages. The cartonnage mask is in situ, placed over the face and secured by the bandages. The mask features a moulded face of the deceased which has been gilded (parts of the plaster now missing), with the eyes and curls of the fringe painted on to the surface. Around the head and over the rest of the cartonnage are painted deities, including Isis, and other symbolic funeral images. The child was approximately five or six years old when he died in antiquity. The cause of death is unknown.  Find out more about this mummy on his Collections Page at Sydney University Museums.
Name
The name of the mummy was given by a papyrus inscription found within the bandages of the mummy in the 1800s. Originally remains were identified as female and the inscription was translated to 'Haranth, who is born of Ta...ur' by Dr Birch of the British Musuem in the late 19th century. In 2001, the papyrus was re-examined by Dr Marc Coenen who gave the translation of 'Horus', suggesting the remains were that of a male child. In 2009, CT-scans confirmed the remains as male. 
Collection
The mummy was collected by Sir Charles Nicholson during his trip to Egypt in 1856-7. The mummy was subsequently taken to the British Museum  for research and documentation prior to its transportation to Sydney, Australia. The mummy, along with many other Egyptian antiquities, was donated by Sir Charles Nicholson to the University of Sydney for the establishment of an antiquities museum at the newly founded university. The museum was subsequently renamed The Nicholson Museum. 
Publications
Reeve, Edward. 1870. Catalogue of the Museum of Antiquities of the Sydney University. pp. 3-4; no. 26
Turner, Michael. 2012. 50 Objects 50 Stories. Extraordinary Curiosities from the Nicholson Museum . Sydney: The University of Sydney Press. p. 12 
Community content is available under
CC-BY-SA
unless otherwise noted.