Garstang Mummy
Human Mummy
Biographical Information
Name(s)
Garstang Mummy
Age
3,500 yo
Sex
m
Status
high
Height
Source
Culture
Egyptian
Date(s)
18th dynasty
Site
Current Location
Location
Liverpool UK
Catalog #
In the collection of The Garstang Museum, named after John Garstang, a British archaeologist of the early 20th century and a pioneer in the development of archaeology as a science.
Garstang's excavations focused on ancient cemeteries, this ancient mummy, dating to around 1,000 BC includes a gold heart scarab – an object inscribed with magical texts designed to prevent the heart from betraying the owner in the afterlife, the earliest known example ever found.
Studies
Many of the methods developed by University anatomists, and used on Tutankhamun in 1968 were developed using the Garstang Mummy.
Pathology
He died in his mid to late 20s, although it is not clear what he died from. His teeth are in very good condition.
Additional
When the mummy was first found more than a century ago, he was in a coffin belonging to a Roman woman.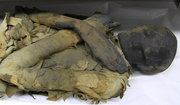 The mummy had been put into safe storage at the university's anatomy department during the Second World War, and remained there for over 70 years.
External Links
https://www.liverpoolecho.co.uk/news/liverpool-news/gallery/the-garstang-mummy-9257687
https://www.liverpool.ac.uk/archaeology-classics-and-egyptology/garstang-museum/
https://news.liverpool.ac.uk/2015/05/13/garstang-mummy-returns-for-lightnight/
Community content is available under
CC-BY-SA
unless otherwise noted.