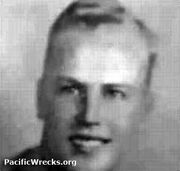 Born in 1919, an Ohio farmer, he enlisted in the Army Air Corps during World War Two.
As a cadet, on November 15, he was assigned to a training mission under 2nd Lt. William Gamber along with fellow cadets John Mortenson and Leo Mustonen. They took off early in the morning from Mather Field in Sacramento, California but never arrived to their destination.
In 1947, pieces of wreckage were discovered and it was determined that the plane had crashed on Mount Darwin in King's Canyon National Park. In August 2007, the a glacier entombed remains of an airman were located. In February of 2008, the remains were officially identified as those of Cadet Ernest Munn
On May 17th 2008, Munn was buried in his family burial plot in Coherain, Ohio.
References
Frozen remains of WWII airman identified. (n.d.). Retrieved November 03, 2017, from http://www.cnn.com/2008/WORLD/americas/03/11/us.airman/index.html
Ernest Glenn Munn. (2017, April 06). Retrieved November 03, 2017, from https://en.wikipedia.org/wiki/Ernest_Glenn_Munn
A. (n.d.). History Of Vimy Ridge – Vimy Foundation. Retrieved from https://www.vimyfoundation.ca/learn/vimy-ridge/
History.com Staff. (2009). Battle of Vimy Ridge. Retrieved from http://www.history.com/topics/world-war-i/vimy-ridge-battle
Leo M. Mustonen and Ernest G. Munn. (n.d.). Retrieved November 03, 2017, from http://www.mummytombs.com/featured/airmen.html
Se souvenir - Le Mémorial de Vimy. (n.d.). Retrieved from http://www.museedelaguerre.ca/premiereguerremondiale/histoire/apres-la-guerre/se-souvenir/le-memorial-de-vimy/
Community content is available under
CC-BY-SA
unless otherwise noted.