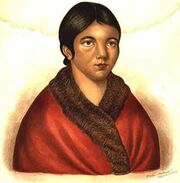 Demasduit was captured by Europeans in 1819 and was renamed Mary March. A minister selected the name in respect to the Blessed Virgin Mary and in memory of the month in which Demasduit was kidnapped in a settler's raid on a Beothuk camp. Demasduit's husband was killed trying to prevent her capture, and her infant son died a few days after she was taken. The circumstances of her capture are a bit murky-- according to some, trappers were intentionally sent to capture a Beothuk woman for the Newfoundland colony to use as a go-between, others say that their intention was only to recover a stolen boat and that Demasduit simply surrendered to them when she found herself too weak to flee with the other tribesmen. When she eventually managed to convey what had happened to her, it turned out that Demasduit had given birth not long before the raid, that her husband had been killed, and that her newborn son had been left behind when she was captured. The British military attempted to return her to her people, but she died of tuberculosis before they could be reunited. Her body was eventually returned to them, however, and according to her niece Shanawdithit (generally considered the last of the Beothuks), Demasduit was buried alongside her husband and infant son.
Mummification
During the summer of 1819, a number of attempts were made to return her to her people, without success. Captain David Buchan was to go overland to Red Indian Lake with Demasduit in November, the people of St. John's and Notre Dame Bay having raised the money to return the Beothuk to her home. She died of tuberculosis at Ship Cove (now Botwood) aboard Buchan's vessel Grasshopper, on 8 January 1820. Her body was left in a coffin on the lake shore, where it was found by members of her tribe and returned to her village in February. She was placed in a burial hut beside her husband and child. There were only thirty-one of the Beothuk remaining at that time.
Links
Community content is available under
CC-BY-SA
unless otherwise noted.