Dätgen Man
Human Mummy
Biographical Information
Name(s)
Dätgen Man
Age
30
Sex
m
Status
Height
Source
Culture
Date(s)
2nd to 4th century AD
Site
Dätgen, Germany
Current Location
Location
Landesmuseum
Catalog #
Dätgen Man
was found in 1959 near Dätgen, Germany. He was about 30 years old at the time of his death. His severed head was found 3 metres (10 feet) from his body.
Dätgen Man was discovered not far from Osterby Man, his body was dated to 150 BC, and like Osterby Man, the remains of Dätgen Man were driven into the bog with wooden stakes.
Pathology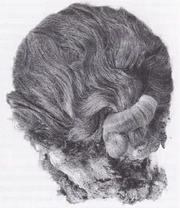 Dätgen Man's head was found some distance from his body, which was staked into the ground, it's thought to have been staked out post-mortem.
Dätgen Man was apparently beaten and stabbed.The remains were dated to be from the 2nd to 4th century AD
Additional
His hair was arranged in a Suebian knot.
External Links
https://www.atlasobscura.com/places/the-bog-bodies-at-the-schleswig-holstein-landesmuseum-schleswig-germany
http://www.denblauwenswaen.nl/en/geschiedenis/veenlijken/duitsland-polen/
Community content is available under
CC-BY-SA
unless otherwise noted.