Braided Lady
Human Mummy
Biographical Information
Name(s)
Braided Lady
Age
Sex
female
Status
middle/high
Height
4 feet, 10 inches
Source
Culture
Egyptian
Date(s)
1550-1069 B.C.
Site
Current Location
Location
Museum of World Treasures, Wichita
Catalog #
Housed at the Museum of World Treasures, Wichita Kansas, this is an unnamed mummy of a young woman.
Mummification
Studies
She was aged early/mid 20s.
Placement of arms over pubic area would indicate non-royal descent. Imperfect mummification process with brain matter, spleen, and liver found in body. Varying types of linens used for wrappings, not only fine linens.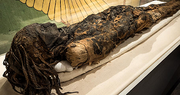 Her high status was extrapolated from Henna-polished and well-manicured fingernails and abundant soft tissue - she was not lean.
Pathology
She was found to have suffered from a curvature of the spine.
External Links
https://www2.ljworld.com/news/2008/sep/21/expert_study_wichita_mummy/
https://pubs.rsna.org/doi/full/10.1148/radiographics.22.2.g02mr13377
Community content is available under
CC-BY-SA
unless otherwise noted.